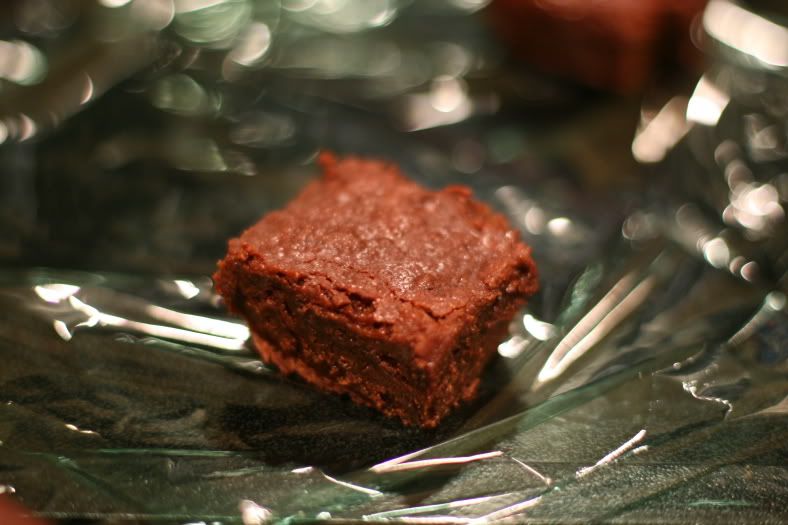 INGREDIENTS
1.5 ounces semisweet chocolate, chopped
4 1/2 tablespoons butter
1 cup sugar
1/3 cup unsweetened cocoa
1 tablespoon instant coffee granules
2 tablespoons Kahlúa (coffee-flavored liqueur)
2 teaspoons vanilla extract
1 large egg white
1 large egg
3/4 cup all-purpose flour
1/4 teaspoon baking powder
1/4 teaspoon baking soda
1/4 teaspoon salt
Glaze:
2 tablespoons sugar
1 tablespoon water
1 tablespoon agave nectar
2 teaspoons butter
1 ounce semisweet chocolate, chopped
1 teaspoon Kahlúa (coffee-flavored liqueur)

DIRECTIONS
Preheat oven to 350°.
To prepare brownies, coat bottom of an 8-inch square baking pan with cooking spray (do not coat sides of pan); set aside.
Combine 1.5 ounces chocolate and 4 1/2 tablespoons butter in a microwave-safe bowl. Cover and microwave at HIGH 1 minute or until chocolate almost melts. Stir until completely melted.
Stir in 1 cup sugar and next 6 ingredients (1 cup sugar through egg).
Lightly spoon flour into a dry measuring cup; level with a knife. Combine flour, baking powder, baking soda, and salt in a large bowl; stir well with a whisk.
Add chocolate mixture; stir just until moist. Spread into prepared pan.
Bake at 350° for 22 minutes or until a wooden pick inserted in center comes out almost clean. Cool in pan on a wire rack.
To prepare glaze, combine 2 tablespoons sugar, water, nectar, and 2 teaspoons butter in a small microwave-safe bowl. Microwave at HIGH 40 seconds or until sugar dissolves, stirring once. Add 1 ounce chocolate and 1 teaspoon liqueur, stirring until chocolate melts.
Spread over brownies; cool 20 minutes or until glaze is set.