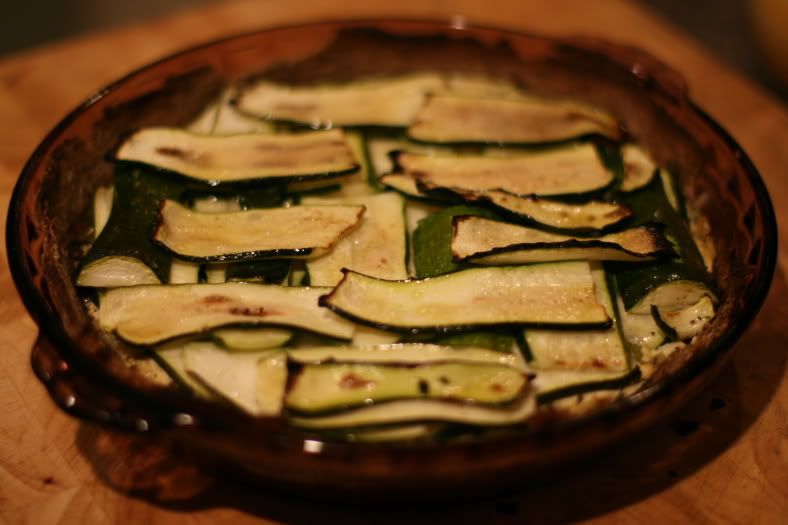 Vegan Green Quiche with Olive Crust
.
INGREDIENTS
8 jumbo black olives, pitted
1/2 cup rolled oats
1/2 cup spelt flour
2 tablespoons nutritional yeast
1 tablespoon flax meal
1/2 teaspoon sea salt
water
2 medium zucchini, sliced in ribbons
12 oz. firm tofu, crumbled
1/2 onion, chopped
1 shallot, thinly sliced
3 tablespoons nutritional yeast
1/4 teaspoon salt
1/4 cup chopped fresh parsley
1 tablespoon chopped fresh thyme
1/2 cup chopped frozen spinach (thawed and squeezed dry)
1/4 cup frozen peas
2 tablespoons flax meal (soaked in 2 tablespoons hot water)

DIRECTIONS
In a food processor, pulse oats until the consistency of flour. Remove to a medium bowl and mix with spelt, nutritional yeast, flax, and salt.
Place olives in the food processor and pulse until finely minced. Combine with dry mixture in the separate bowl.
Switch to a dough blade and place dry mixture in food processor. Pulse with water until dough forms a manageable ball. Wrap ball in plastic wrap and place in freezer.
When dough is cold enough to be manageable, roll out and place crust in an 8- or 9-inch pie plate. Bake at 400 degrees for 15 minutes.
Meanwhile, saute onion and shallot in some olive oil over medium-high heat until soft and golden. Combine this mixture and all remaining ingredients (excluding zucchini) in a medium bowl.
Fill crust with tofu mixture and layer zucchini ribbons over top. Spray with olive oil and sprinkle with sea salt.
Bake in a 350 degree oven for 30-35 minutes. To brown zucchini top, place under broiler for a few minutes.
Cool briefly and serve.